Faulty Towers The Dining Experience
Thursday October 26th
Be part of the action as Basil, Sybil and Manuel serve up mayhem on a plate alongside
a 3-course meal and two hours of non-stop laughter in the Talbot Hotel Stillorgan
Expect nothing short of guaranteed fun and a brilliant night out as you climb inside the BBC's
iconic TV show and experience it from the inside out…
With over 70% of each performance improvised, this is the completely immersive and highly interactive
comedy spectacular where anything can happen… and usually does!
The fun begins in our renowned Brass Bar & Grill where you will be greeted by Basil, Sybil and Manuel.
The night continues into our Carysfort Suite where you will be served a 3 Course Meal with a
side of chaos, laughter and gags.
This is not an evening to miss out on!
"The world's most sought-after tribute to the BBC's Fawlty Towers"
Get Your Tickets at the Link Below!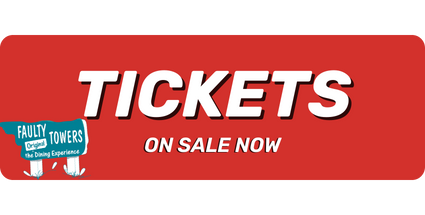 Check it out on YouTube HERE!
See interviews with past audience members!